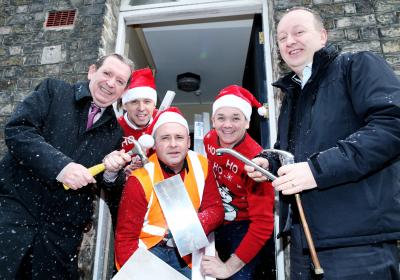 Saint Gobain, the global building materials supplier, today announced that it will donate €100,000 to the Peter McVerry Trust. The money will be used to refurbish six apartments in a disused building on Pim Street in Dublin 8.  The project will be complete by February 2015.
Speaking today Brian Dolan, MD for Saint-Gobain in Ireland said: "There is a deepening crisis in social housing in Ireland and we believe leading companies should put their shoulder to the wheel and return a social dividend from their success. Part of our corporate and social responsibility is to support our local communities, and supporting a building project for the Peter McVerry Trust is a great match in that regard." "The Saint-Gobain Initiatives Foundation supports charities around the world and we are delighted that our application to the Foundation to support this important social housing project here in Ireland was approved".
"A secure home is a human right that provides shelter, security and dignity. It allows an individual to lead a rewarding and meaningful life. We are delighted this donation will ensure that six individuals or families will get a chance to start over with a new home." added Dolan.
Pat Doyle, CEO of the Peter McVerry Trust said: "We have, at present, 90,000 households on a social housing waiting list, we also see rising rents, rising property costs and rising homelessness in urban areas. All of this has led to increasing pressure on the homeless service providers such as the Peter McVerry Trust, and it is a relief and a fantastic move to see a company such as Saint-Gobain step forward to help us out".
The renovation project, which starts with immediate effect, involves the refurbishment of a block of apartments on in Dublin 8. The building is currently unused and run down, and has been handed over by Dublin City Council to the Trust on a long-term lease. The work funded by Saint-Gobain will involve gutting the building and getting it habitable and ready for new tenants to move in.
"What this means in reality is that 6 households will get their second chance, their own apartment, and a chance to stand on their own two feet. What it means is that the people who are lucky enough to get a place in the new apartment block will get their own home and their independence back, and that is a huge thing," said Doyle.
Concluding Mr Doyle said that while the charity has been to the fore of efforts to provide emergency accommodation in Dublin it's strategic aim is to significantly grow its housing stock to help as many people as possible exit homelessness. "Peter McVerry Trust is not only responding to the need for emergency accommodation but also has a number of projects similar to this which will develop housing for those in homeless services. We echo Minister Alan Kelly's call that private sector companies need  to come forward and support efforts to tackle homelessness our partnership with Saint – Gobain is a clear example of what can be achieved."
Saint-Gobain has a long history in Ireland, with well-known building material brands such as Gyproc, 77 years manufacturing in Ireland, Isover & Weber each over 40 years in Ireland. Saint-Gobain employs over 700 people on                                                                                                                        the island, and in 2015 will celebrate their 350-year anniversary.