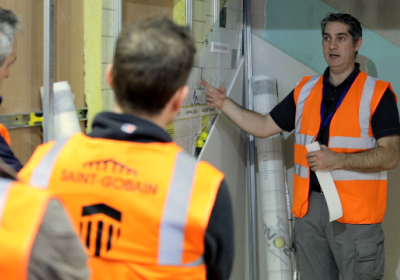 Saint-Gobain, the building materials multi-national, today announced a new construction skills academy for Dublin that will train 25,000 new construction workers over the next five years.
Speaking at the announcement Brian Dolan, Managing Director for the Saint-Gobain building materials businesses in Ireland said: "This is a red letter day for construction in Ireland as it marks the most significant investment in education and training in the industry since the crash of 2008. We want to replace the 'lost generation' of construction workers who have left Ireland or the industry over the last six years."
"There is a massive shortage of skilled workers in the Irish construction industry, which is a key factor in the lack of housing supply. We are opening this skills academy as a vote of confidence in the Irish building industry which will tripple housing output by 2020," he added.
The sate-of-the-art training facility is situated near Lucan, Dublin and will train all of the key construction professionals including builders, architects and tradespeople. Courses will cover a wide range of topics from practical site installation courses to building physics and building regulations courses.
The Saint-Gobain Technical Academy was officially opened by Minister for Energy Alex White, who said: "We need a workforce that is highly skilled and appropriately qualified. This applies not just to construction workers but also to architects, engineers and other construction professionals. Achieving the goal of an energy efficient building, is no longer someone else's job. It should be the job of everyone on a site."