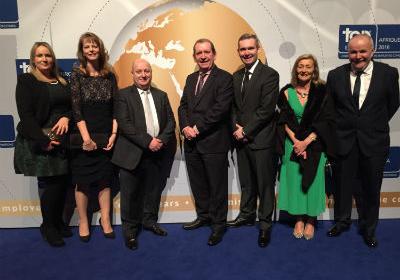 On the 25th of February in Amsterdam, Saint-Gobain in Ireland was presented with the 'Top Employers Ireland 2016' certification.  The Top Employers award is an independent certification provided by the Top Employers Institute and is awarded to organisations that demonstrate the highest standards of excellence in employee conditions.
Brian Dolan, Managing Director of Saint-Gobain companies Gyproc & Isover believes "that this award backs up our promise to provide our employees with a truly diverse and exciting career, in a country that is now growing at the fastest rate in Europe.  As well as being part of a large international group, we have long established companies in Ireland, and this award should help increase our profile further and encourage diverse and talented people to want to join us".
This award recognises that Saint-Gobain in Ireland provides exceptional employee conditions, nurtures and develops talent throughout all levels of the organisation, has demonstrated its leadership status in the HR environment, and is always striving to optimise its employment practices and to develop its employees.
"At Saint-Gobain we truly think we can impact people's daily lives through our commitment to providing innovative, sustainable solutions to meet some of today's greatest challenges.  We can only achieve this through our people.  By investing in our people we are ensuring that we can deliver on our promises to our customers and I believe this award will set us apart from other companies when candidates are trying to distinguish between the companies that truly invest in people development." Brian Dolan, Managing Director of Gyproc & Isover
This is the first year that Saint-Gobain in Ireland has joined the worldwide Top Employers community of almost 1100 organisations in more than 100 countries.