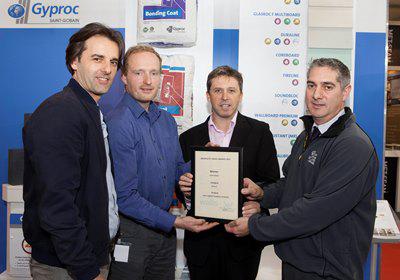 SAINT-GOBAIN TECHNICAL ACADEMY WINS 2015 ARCHITECTS CHOICE AWARD
Saint-Gobain Technical Academy received the Services Category Winner in the 2015 Architects' Choice Awards at this year's Architecture Expo in the RDS, Dublin.  The awards had thirty-five entries overall with five different category winners. The jury was made up of Gary Mongey (Chair), Box Architects; Maria Kiernan, Kearney & Kieran Architects; Simon O'Driscoll, O'Driscoll Furniture; Cathy Prunty, DIT Architecture Department; and Michael Hayes (AI Online Editor and Architectural Graduate).  Organiser Pat Lehane commented on the overall quality of each of the entries and how it reflected a very positive outlook and commitment from those in the industry.
With two Technical Academies in Ireland, one in Kingscourt, Co Cavan and one in Kilcarbery, Dublin Saint-Gobain provides a range of free-to-attend courses for trade professionals. The training includes both theory and practical training on a range of topics such as fire, acoustics, airtightness, building regulations and much more. You can find more information on the range of courses and course dates on http://bit.ly/1CNuYef.